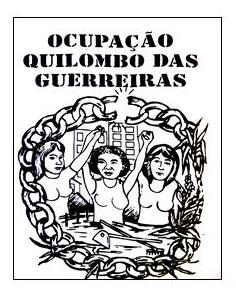 Part of the "Sem-Teto" movement1 in Rio de Janeiro has carried out squatts (called "ocupações" in Brazil) in the central area of the city and organized the management of their small territories through a highly horizontal structure (with very little traces of hierarchy) in which the deliberative spaces are open to the participation of all dwellers. These ocupações in the center of Rio de Janeiro are committed to self-management, based on the principle of solidarity and mutual aid. The dwellers organize themselves through assemblies within an autonomous movement which is not associated with any form of parties or institution. All decisions that affects or are related to each ocupação are made by their own assemblies, recognized like the only representative forum, called "Collective".
By occupying abandoned buildings the movement questions the real-estate speculation. The latter leads to the absurd fact that while 150.000 places are needed by people in the municipality of Rio de Janeiro, 250.000 places stay vacant without fulfilling any social function. The "Sem-Teto" movement believe that the urban reform2 is something that has to be done by people´s power (poder popular), knowing that the burgees capitalist state will not attend the demand of the impoverished workers.
The processes of new ocupações like these self-managed ones is usually very organized. They normally take several months of meetings with the families, discussing large topics like the urban juncture, the role of the state and his violence and the segregation of the poor. On the other hand, important themes to the internal self-management of the Collective are also debated. Themes like the internal regiment (the norms of the ocupação), the activities that is expected to be developed in the new territory (self-managed economic alternatives, community kitchen, community kindergarten, etc.) and the name of the ocupação. All these topics are discussed and the decisions are made horizontally by all the dwellers.
The autonomous homeless movements in Rio de Janeiro are an example to the rest of the world that a combination of direct action and the satisfaction of basic needs can provide the conditions necessary for the construction of a sustainable grassroots movement.